How to Start a Pool Cleaning Business in 2023: The Step-by-Step Guide
---
2023 is the best time to start a business. Think about it. Most of us have access to:
Small business loan options,

Plenty of free or inexpensive software to help us start and scale our business,

Online job boards to source employees,

Several free customer acquisition channels like Google Search, social media, and more.
With those resources and this post, you're set up with the complete guide to starting a pool service business in 2023. You'll come away knowing:
The benefits of owning and running pool cleaning companies,

How to plan, fund, and market your pool cleaning company,

And how to leverage software and other tools to edge out the competition.
Let's dive right in.
Table of Contents
What Is a Pool Cleaning Business?
How to Start a Pool Cleaning Business
The Benefits of Starting a Pool Cleaning Business
What is a pool cleaning business?
A pool cleaning business provides essential maintenance services to residential or commercial pool owners. As a pool cleaning business owner, your main responsibility is to keep pools clean, clear, and safe for swimming.
This can include regular maintenance tasks like skimming, brushing, and vacuuming the pool, balancing chemicals, and cleaning pool filters. You may also be responsible for repairing or replacing pool equipment, such as pumps, filters, and heaters.
Starting a pool cleaning business can be an excellent opportunity for entrepreneurs who enjoy working outdoors and are interested in pool maintenance. With the right knowledge, equipment, team, and marketing strategies, you can establish a successful pool cleaning business that serves a growing market of pool owners in your area.
How to start a pool cleaning business: a step-by-step guide
Alright, now that we've covered the different types of pool cleaning businesses and the benefits of starting one, let's get into the step-by-step guide to starting your own.
Step 1: Research and plan
The first step in starting a pool cleaning business is to conduct thorough research and develop a comprehensive business plan. This will help you to identify your target market, determine pricing strategies, and create effective marketing tactics to attract clients. Here are the key elements to focus on during the research and planning stage:
Market research
Start by conducting market research to identify the demand for pool cleaning services in your area. This will help you determine how many pool owners are in your target market, what services they need, and how much they're willing to pay
We talk briefly about how to use Google to do market research in an hour or less in our post on pricing your pool services. Be sure to check that out next.
The different types of pool service businesses
When it comes to pool service businesses, there are several different types. The type of pool service business you decide to start will depend on your skills, interests, and available resources. It's also worth noting that many of these service areas overlap. You can niche down and specialize in one area or offer an all-in-one approach.
Here are a few of the most common types of pool service businesses:
1. Pool cleaning service
A pool cleaning service focuses on the regular maintenance of a swimming pool. This can include skimming the pool surface, vacuuming the pool floor, cleaning the pool walls and tiles, and balancing the chemicals in the water.
Some pool cleaning services offer additional services like equipment repair or pool closing and opening.
2. Pool repair service
As you likely know, most modern swimming pool systems are run by highly elaborate and complex pump and filtration systems. These systems have moving parts that can be damaged or broken. A pool repair service specializes in repairing and replacing pool equipment, such as pumps, filters, and heaters.
They may also repair or replace pool liners, coping, and tile work. Pool repair services typically require specialized knowledge and training in pool equipment and maintenance (for which they can charge a premium).
3. Pool renovation service
A pool renovation service can help homeowners upgrade or remodel their existing pool. This may include installing new tile work, replacing the coping, resurfacing the pool, or adding new features like waterfalls or lighting.
Pool renovation services require specialized knowledge in pool design and construction. They often intersect with other disciplines like architecture, exterior design, and even engineering.
4. Pool maintenance service
A pool maintenance service focuses on ongoing pool maintenance, including regular cleaning, chemical balancing, and equipment maintenance. They may also offer additional services like opening and closing pools for the season, or winterizing pools for the off-season.
What you decide to offer will likely depend on several factors, including:
The demands of your local market,

Your existing skillset (or ability to develop more high-level skillsets),

And your desired level of involvement in the business.
Develop a business plan
Develop a comprehensive business plan with the information you've gathered from your market research. This should include your business structure, target market, pricing strategy, and marketing plan. A business plan can help you stay focused on your goals and make informed decisions as you start and grow your business.
The details of developing a business plan go beyond the scope of this post, so check out this post if the concept of a business plan is new to you. You should also develop a plan for funding and a timeline for profitability. This will be essential if you're pitching funding to investors, plus it's a good idea to plan ahead and understand when the business will start making money.
Step 2: Obtain necessary licenses, permits, and insurance
Before you can start offering pool cleaning services, you'll need to obtain the necessary licenses and permits from your local government. This may include a business license, tax ID number, and any special permits required for handling pool chemicals.
Licensure and permits vary from state to state, so you'll want to research your local requirements. Here are the minimum licensure requirements to start a pool cleaning business in 2023:
Business License
This is required by most states and municipalities in order to legally operate a business. The specific requirements for obtaining a license may vary depending on your location, so it's important to check with your local government for details.
Contractor's License
A Contractor's License may be required if you are hiring employees or subcontractors to help with your business operations. In Florida, for example, a contractor's license is required for any business that offers construction or repair services that exceed $500. This includes pool repair services such as equipment installation, plumbing, and electrical work. To obtain a contractor's license in Florida, you must pass a state examination and meet other requirements.
Pool Cleaning License
Depending on the state, there may be specific licensing requirements for pool cleaning businesses.
State and local permits
In addition to a Business License and Contractor's License, you may need to obtain permits from the state or local government to handle pool chemicals, install pool equipment, or dispose of waste.
For example, the Florida Department of Health requires a pool service license for any person or business that provides commercial pool cleaning services. This license requires specific training and testing to ensure the licensee has the necessary knowledge to safely and effectively maintain commercial pools.
You may also need to acquire a Zoning Permit, which is necessary to ensure that your business meets local zoning regulations.
Pool cleaning business insurance
In addition to licenses and permits, it's important to consider insurance for your pool cleaning business. A pool cleaning business insurance policy can help protect your business from unexpected events leading to financial loss.
This can include damage to pool equipment, injuries to employees or clients, and other unforeseen accidents. Liability Insurance, for example, is incredibly important to have to protect your business if you are sued for injury or damage caused by your business operations. Worker's Compensation Insurance is also a good idea if you are hiring employees.
Another thing you'll want to do right off the bat is to get yourself a business bank account and business credit card. One of the easiest business mistakes is co-mingling your personal and business funds and expenses. Trust us; separating those will save you many headaches, especially when tax time rolls around.
You may also want to speak to a CPA or accountant about which legal business entity is best for your business. A sole proprietor LLC (limited liability company) may be fine if you're starting by yourself. However, if you want to have employees on the payroll (not just 1099 contractors), you'll likely need to file as an S-Corp.
Like many other things in this category, business structuring varies from state to state, and you'll want to consult the expertise of a local CPA, accountant, or tax expert before making any decisions.
Step 3: Secure funding and acquire equipment and personnel
Once you have researched and developed a solid business plan, the next step is to secure funding and acquire the necessary equipment and personnel to get your pool cleaning business up and running. Here are some key steps to consider:
Secure funding
Depending on the size of your business and the amount of equipment you need to purchase, you may need to secure funding to get started. This can include personal savings, loans from banks or credit unions, or investments from friends and family.
We'd recommend digging into the wealth of resources on SBA.gov for more information on how to secure funding. They also have loads of information on writing a business plan, planning expenses, establishing business credit, and more.
Acquire equipment
You'll need to acquire the necessary equipment and supplies to provide pool cleaning services. Much of this depends on the kinds of pool services you want to deliver.
Equipment often includes skimmers, vacuums, brushes, chemicals, and a vehicle to transport your gear. Don't forget about non-tangible equipment like pool service software and accounting software to track your business expenses.
Hire personnel
As your business grows, you may need to hire employees or subcontractors to help you meet the demands of your clients. When hiring personnel, it's important to look for individuals who have experience in pool maintenance or are willing to undergo training to develop the necessary skills.
Set up payroll and taxes
If you hire employees or subcontractors, you'll need to set up payroll and ensure that you comply with all tax laws and regulations. This may include obtaining an employer identification number, setting up payroll software or services, and withholding taxes from employee paychecks.
Step 4: Develop your brand, price your services, and begin marketing
Once you have secured funding, acquired equipment, and hired personnel, the next step is to develop your brand, price your services, and begin marketing to attract clients. Here are some key steps to consider:
Develop your brand
Your brand is the face of your business and can help you stand out in a competitive market.
A successful brand has a unique selling proposition (something that you do better than the rest of your competitors), a memorable business name, consistent design and branding, and a professional-looking website. We understand this can be overwhelming, but there are many tools available to help those who need to gain experience in marketing and branding.
Consider these websites and tools:
Pricing
When it comes to pricing, that's a topic that deserves a blog post all its own. Thankfully, we've got you covered with our complete guide to pricing your pool services. You likely have a very slim marketing budget in the beginning, so here is our advice: treat every customer like they're your only customer. Go above and beyond for them, check in with them often, and ensure you absolutely blow them away with value.
Marketing
The best and most effective lead acquisition channel is word of mouth. So yes, we recommend using social media, posting in local pool cleaners groups online, optimizing your site for Google search, and running paid ads.
Social media is an excellent free way to promote your brand and customers authentically. Mark Jones, owner and pool tech at Blue Street Pools, has built a massive and dedicated social media following doing just that. He offered the following advice to pool pros seeking to stand out against the competition with social media.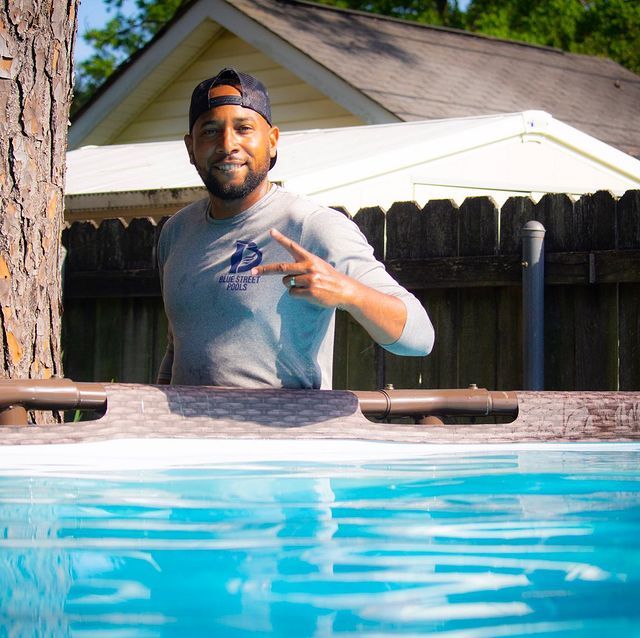 "People need to know who you are. So in every video, I make sure to be in the video, show my face, and wear my Blue Street Pools t-shirt," he said. "Don't forget to be yourself, but be professional. Talk up your customers in the videos too. When you do this, people will find you."
But more than likely, your first few customers will come from the trusted recommendations of family and friends, and it's essential to treat those customers like royalty.
Step 5: Use systems and processes to scale up
As your pool cleaning business grows, it's important to have effective systems and processes to help you manage your operations and scale up your business. Here are some key steps to consider:
Develop standard operating procedures
Standard operating procedures (SOPs) are step-by-step instructions that outline how to perform specific tasks or processes in your business. Developing SOPs can ensure consistency in the quality of your services, reduce errors, and streamline your operations. Examples of SOPs for a pool cleaning business may include a cleaning checklist, a maintenance schedule, or a safety protocol.
Use software and technology
There are many software and technology tools available that can help you manage your pool cleaning business more efficiently. These include scheduling, accounting, and customer relationship management (CRM) software. Using these tools can help you automate routine tasks, track your finances, and manage client data more effectively.
Pool pros can do all of this in one app with Skimmer, a pool service management software that enables you to schedule your team, communicate with your customers, invoice, and keep track of billing.
For more information on how Skimmer can help you run a profitable pool-cleaning business, check out our features page after this post.
Train your staff
As your business grows, you may need to hire additional staff to help you manage your operations. It's important to train your staff on your SOPs, software and technology tools, and customer service standards to ensure they align with your business goals and values.
Continuously improve your processes
To stay competitive and meet the evolving needs of your clients, it's crucial to improve your processes and systems continuously. This may involve soliciting client feedback, analyzing your data, and testing new strategies to optimize your operations.
The benefits of starting your own pool cleaning business
Starting your own pool cleaning business can be a smart move for several reasons. Here are some of the benefits to consider:
Be your own boss
By starting your own business, you can be your own boss and set your own schedule. This can provide more flexibility and control over your work life and the potential for increased earnings.
Opportunity in the pool service industry
We know starting a software, eCommerce, or online service-based business is popular. And those are great. But many online businesses fail because they attempt to go after a market that doesn't exist (or doesn't have a pressing need that requires a purchase). In the pool service industry, that's never a concern.
The average age of a backyard pool in the US is 25 years. They're going to need ongoing pool service and maintenance repairs. By starting a pool cleaning business, you'll enter a field with steady demand and high projected growth.
Low startup costs
Starting a pool cleaning business can be relatively affordable compared to brick-and-mortar businesses. The startup costs typically include pool cleaning equipment and supplies, marketing and advertising expenses, and licensing and permit fees. Many of these expenses can be bootstrapped or funded with small business loans.
High earning potential
Depending on the size of your business and the number of clients you serve, a pool cleaning business can be a lucrative venture. With high-profit margins and recurring revenue from regular maintenance contracts, you have the potential to earn a good income.
Ability to scale
In the early days of your pool cleaning business, you'll likely need to meet on-site with customers and get your hands dirty (or rather, wet.) But as your business grows, you can begin hiring and training more techs, implementing software for greater efficiency, and taking more of a high-level management role. Once your business has well-established systems and processes and runs like a well-oiled machine, you're also in a great position to sell it.
🌟 FAQs
Q: What are the steps for starting a pool cleaning business?
A: The steps for starting a pool cleaning business include researching the local market, setting up a business structure, creating a business plan, obtaining the necessary permits and licenses, purchasing equipment, finding customers, and setting up a pricing structure.
Q: What equipment do I need to start a pool cleaning business?
A: The essential equipment for starting a pool cleaning business includes a pool vacuum, pool brush, pool skimmer, pool test kit, pool filter, and a chemical dispenser. Additional items such as a pool cover, ladder, and safety gear may also be needed. Equipment also varies by preference and the geographical needs of your customers' pools.
Q: Is certification necessary for a pool cleaning business?
A: While not mandatory, obtaining a certification, like the Certified Pool & Spa Operator (CPO) certification, can enhance your reputation and demonstrate a high level of professionalism and knowledge.
Q: Do I need insurance for my pool cleaning business?
A: Absolutely. It's crucial to have liability insurance to protect your business against potential claims or accidents. If you're using a vehicle for business, you may also need commercial auto insurance.
Q: How can I market my pool cleaning business?
A: Consider digital marketing strategies like creating a website, using social media, and leveraging local SEO. Traditional marketing, like flyers, business cards, and local advertisements, can also be effective.
Conclusion
We won't lie and say that becoming a pool service business owner is easy. But, it's absolutely possible. Thanks to the bevy of resources available to persistent entrepreneurs in 2023, there's a clear blueprint for success. Starting a new business can be intimidating, especially in a competitive space like pool service.
With Skimmer, pool pros grow their business by ensuring consistent, premium, and profitable service across every customer touchpoint. Our software is easy to use, customizable to your business needs, and designed to help you scale up your pool cleaning business over time.
Whether you're just starting out or looking to take your pool service business to the next level, Skimmer can help. Watch this demo and discover how Skimmer can help you build a successful and profitable pool cleaning business in 2023 and beyond.
Subscribe to get the latest pool service advice straight to your inbox.